Our groomers
Canine Class now has four groomers all trained to Canine Class's standard by Nicki herself making up a very special team. Nicki has built her team by carefully selecting those with a passion for dogs, matched with a creative flair for grooming but also an ability to bring something special and different to Canine Class, the dogs and the customers. All the team have studied animal care or worked with dogs prior to grooming and have two years' experience handling only at the salon to ensure the dogs are in the safest, caring hands. Consistently Nicki and her staff have continued to strive to have the best grooming and behaviour skills possible, having the industry's award-winning groomers training the team at the salon including, Colin Taylor, Mike Wildman, Kelly Davis and Sue Pratt. The team have continued working towards industry qualifications and regularly attend seminars, training days and competitions to ensure the many skills Canine Class offer are the best the industry can provide.
Nicki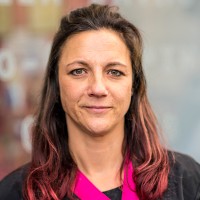 Nicki has been grooming in Midsomer Norton since she set up Canine Class in 2005. As well as attending seminars and grooming competitions Nicki invites the current top groomers to the salon to train her and her team to keep their grooming skills up to date.
Like all her carefully selected team, she enjoys grooming all the dogs that come into the salon and getting to know their individual characters and their owners. Nicki specialises in dogs that find the grooming process challenging and uses her behaviour skills to help dogs start to enjoy the process again. She also undertakes training and behaviour work to develop and strengthen the relationship she has with all dogs. Nicki participates in dog grooming competetions and has achieved awards
Nicki is married and has a 3 year old daugher. Nicki is also kept busy with 3 dogs a GSP, a Hungarian Vizsla and Springer Spaniel which she attends training and competes with. Nicki holds an HND in Animal Care and Management from Lackham college and achieved her City and Guilds Level 3 introduction and Diploma in Dog grooming. Nicki has also completed The Award in Education and Training from Bath college to ensure she is full qualified to teach her staff.
April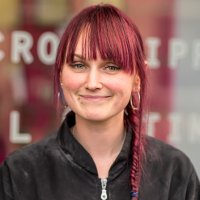 April was the first groomer to join Nicola at Canine Class in 2009. Before starting at Canine Class April worked in a kennels where she learned a lot about dog behaviour. April is married to Greg and has a 5 year old daughter. April owns three dogs two lovely staffordshire terriers, Billy who was rescued from being pts as a stray, Fly and Fritz her miniature schnauzer. All her dogs enjoy agility but Fritz is also Aprils grooming competion dog. They have travelled nationally and have together been successul in achieving dog grooming awards
Since starting dog grooming April has excelled in her field and worked hard to achieve her City and Guilds Level 3 introduction and diploma exams in 2016and also completed The Award in Education and Training from Bath college. Aprils next challenge is the City and Guilds highers. April enjoys grooming all dogs and has gained masses of experience but her heart has been stolen by the terriers and she will keep specialising in these especially the Schnauzers.
Meg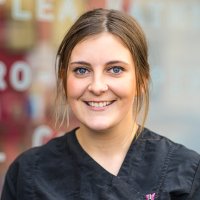 Meg started at Canine Class as a work experience pupil during her two year course in Animal Care at Norton Radstock College. Meg's course and her work with us allowed her to learn valuable knowledge about dog behaviour and their needs. Meg showed such promise and we were delighted when Meg completed our in house apprenticeship program in August 2012 and gained her City and Guilds qualification in Dog grooming.
Meg has 3 dogs, Ralph a working cocker, Dory a miniature labradoodle and Hoggle an English Bulldog. Meg thoroughly enjoys her work and grooming all different types of breeds but she likes to specialise in West Highland Terriers.
Meg and her fiance Chris have one son. Meg has recently returned from maternity leave and will be aiming for her next lot of professional dog grooming exams, the City and Guilds diploma exams in 2017.
Thea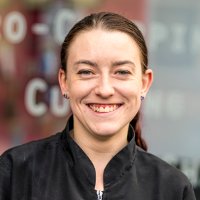 Thea joined our busy Canine Class team after working hard as a work placement. After her two year placement from her Animal Care course at Radstock College Thea had impressed the team and was offered an in house training apprenticeship.
After working extremely hard and receiving some of the best training from top trainers as Sue Pratt, Colin Taylor and Mike Wildman (a cocker spaniel expert) along the way Thea was able to gain the experience and knowledge to be at the same level as her colleagues and flew through her city and guilds introduction exams in 2015Thea enjoys grooming spaniels, the big dogs and has competed with bichons. Thea is currently studying to be a Canine behaviourist and once qualified will work as a behaviourist alongside her grooming.
Thea got married in 2016 with her fellow groomers as her bridesmaids and her and Tim own Koda a German Shepherd cross.